The best insight I received from Dan Burke's introductory book on prayer is this great analogy on dealing with distractions in prayer.
NB: I've adapted several of his points and added some of my own. 
Distractions are like monkeys. 
Prayer is a battle. The world, the flesh, and the devil constantly seek to distract us from our pursuit of God. Dan Burke says that it's helpful to
"picture your mind as a gigantic tree filled with thousands of noisy monkeys. The monkeys represent everything that distracts you during prayer: your memory, your will, your emotions, your desires, your frustrations, your sins, your shortcomings, your interests, your habits, your good thoughts, your bad thoughts—all that makes you who you are. The number and variety of monkeys usually reflects our age. The older we get, the more we learn and engage in life, and the more we sin and fall and learn. For our purposes, you can assume that you'll gain at least a thousand monkeys for every year of life!"
Although these monkeys will initially rebel and incite one another against you when you begin a new habit of praying, the saints and mystics of the Church – the best monkey-trainers of all time – have given us proven strategies to deal with this "monkey business" and win the battle of prayer.
5 Strategies to Tame Your Monkey-Mind:
1st Strategy: "Trick them."
One of the best ways to develop a new habit of prayer is by getting up 15 to 30 minutes earlier than normal to pray. Why? The monkeys are still sleeping or groggy!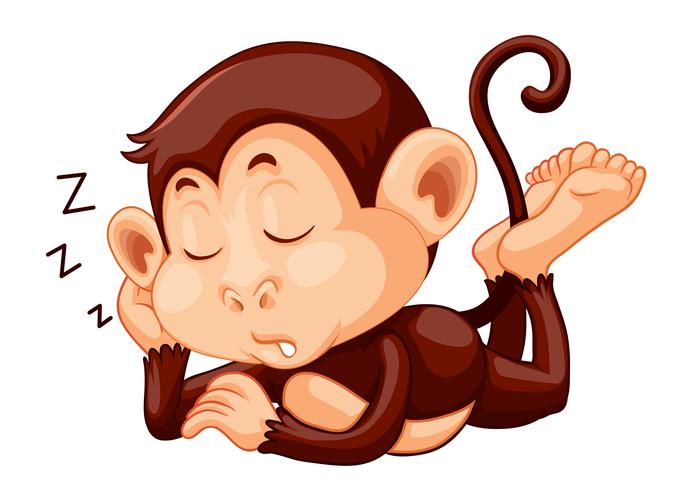 Dan Burke warns you though, once you start engaging with your iThing or "start interacting with too many people with too many words," the monkeys begin to wake up, make noises, and the whole tree comes alive!
'In order to succeed in prayer, it should be done when we first awaken, when our whole being is calm and recollected. We need to make our meditation before anything else.' – St. Peter Julian Eymard
Two more great tips from Burke are the concepts of "sacred time" and "sacred space." First, you must consider this prayer time as sacred and non-negotiable. Schedule in this prayer time before you schedule anything else. Second, you must create a space that is wholly dedicated to prayer and nothing else. If you cannot regularly get to an adoration chapel for daily prayer, create an atmosphere in a place at home that signals your mind, body, and soul that it's time to pray! Use holy images, candles, special lighting, incense, etc. Forbid anything that is distracting like computers, phones, TV's, iThings (turn your phone on airplane mode if you have it with you).
2nd Strategy: "Tolerate them." 
Although you can "convert" a lot of monkeys as you deepen your prayer life, the monkeys will still be monkeys until the day you die. They will either interrupt your prayer with good & holy ideas (best-case scenario) or distract you with sinful thoughts & images (worst-case scenario). If you get frustrated with these monkeys, they will get worse and incite other monkeys to rebel. But if you simply and gently turn your thoughts back to God – if you "tolerate them" – you will come out victorious.
"When your mind wanders or gives way to distractions, gently recall it and place it once more close to its Divine Master. If you should do nothing else but repeat this during the whole time of prayer, your hour would be very well spent and you would perform a spiritual exercise most acceptable to God." – St. Francis de Sales
3rd Strategy: "Train them."
Training monkeys is difficult but doable. With daily persistent effort, monkeys will eventually become docile and begin to cooperate with your new prayer habits.
One of the best ways to "train monkeys" is by reading to them books about prayer and the spiritual life.
Out of all reading options, Dan Burke says that the best is Scripture. In fact, lectio divina is the best way to learn to pray. Dan Burke outlines lectio divina in the following way:
Reading. Read aloud (if possible) and very slowly (this will help you focus). Give Jesus the opportunity to speak to you as you read.
Reflecting. Engage with the passage and apply it to your life.
Responding. Converse with God heart-to-heart about what you've reflected on. Burke says well: "Your conversation should be as natural as it is with someone you deeply love, respect, and desire to know better."
Resting. Allow yourself to rest in God's Word and allow the Spirit to draw you more deeply into His presence.
Resolving. Make a clear and practical resolution.
Dan Burke gives a great tip for beginners here in saying that you should only spend 10 minutes to start out and only focus on the first 2 steps: reading and reflecting.
Remember, if you encounter obstacles as you train these monkeys, don't back down, rather redouble your efforts! Take it as a sign that the most rebellious monkeys are about to be converted and they will become your most helpful allies (the Sauls will be converted into Pauls!).
"The Word of God is the first source of all Christian spirituality. It gives rise to a personal relationship with the living God and with His saving and sanctifying will. It is for this reason that from the very beginning … what is called lectio divina has been held in the highest regard. By means of it the Word of God is brought to bear on life, on which it projects the light of that wisdom which is a gift of the Spirit." – Pope St. John Paul II
4th Strategy: "Feed them."
Feeding monkeys with the Eucharist – the source and summit of our Faith – is essential to for monkeys to be active participants in your pursuit of holiness. The more you can immerse yourself in the sacramental life of the Church, with a real desire to live a life of sanctity, the better! This is a helpful reminder about how God is the real trainer of the monkeys and is actively at work ordering all things for your holiness.
"Jesus, there is one more secret in my life, the deepest and dearest to my heart: it is You Yourself when You come to my heart under the appearance of bread. Herein lies the whole secret of my sanctity." — St. Faustina, 1489

"Holy Communion is the shortest and safest way to heaven." – Pope St. Pius X
5th Strategy: "Consecrate them."
Since serious things demand solemn commitments, prayer – which is a serious thing! – demands an act of consecration to God. Burke recommends that you write down specific, clear, concrete and time-bound goals in regards to your prayer life. Sign this letter in the presence of our Eucharistic Lord (and all the monkeys!) and beg for His graces to carry out your resolutions.